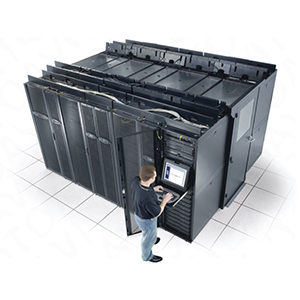 Dedicated server rent (Dedicated Server, DS)
The dedicated server service comprises the rent of a dedicated server with Internet connection, uninterrupted power supply, constant resource allocation and additional services. By renting a dedicated server, you avoid the necessity of sharing a server with 'room-mates' and can use 100% of its capacity for your needs. If a VDS or VPS is not sufficiently flexible or powerful for what you do, it is time you considered renting a physical dedicated server, which is a perfect combination of security, flexibility and high performance.
The data stored and processed on a server shared by several companies may be considered more vulnerable, and renting a dedicated server is the only option for safety-critical systems. An important advantage of the Dedicated Server Service is also the guarantee that all resources will always be available for the performance of the client's task.
As far as the rentable equipment is concerned, we can custom-build a server of any configuration, using components of any type with any technical specifications and catering for any non-standard requirements of the client.
HP Proliant

49 EUR
/month

CPU: Intel Xeon E5-1620

4 cores/8 threads

3.7GHz/3.9GHz

24GB RAM
DELL PowerEdge

74 EUR
/month

CPU: Intel Xeon E3-1245

4 cores/8 threads

3.5GHz/3.9GHz

64GB RAM
HP Proliant

119 EUR
/month

CPU: 2x Intel Xeon X5570

8 cores/16 threads

3.0GHz/3.4GHz

78GB RAM
DELL PowerEdge

199 EUR
/month

CPU: Intel i7-7700K

8 cores/16 threads

4.2GHz/4.5GHz

128GB RAM
The dedicated server rent service comprises the following:
1. Free installation of the equipment to be included in colocation.
2. Uninterrupted power supply.
3. The air conditioning and ventilation system providing the temperature and humidity necessary for the perfect functioning of the equipment.
4. Around-the-clock security with the use of CCTV and access control systems.
5. High-speed data links with unlimited traffic.
6. SLA contract.
7. 24/7 maintenance.
8. Scheduled maintenance.
When the dedicated server rent service is ordered, we take all the needs of the customer into consideration, making sure to cater for minimum and highly specific requirements alike, and make a price offer precisely tailored for you on the basis of all of the above.
If what you need is a non-standard solution, call us to discuss it. We will gladly create a personalized service package for you and prepare the necessary customized equipment.